The purpose of this event series is to spark a conversation between thought leaders and the greater community.
From February through May 2021, we'll be hosting four different webinars. At each event we'll be talking with a special panel of experts, highlighting the important issues we face in the STEM industry.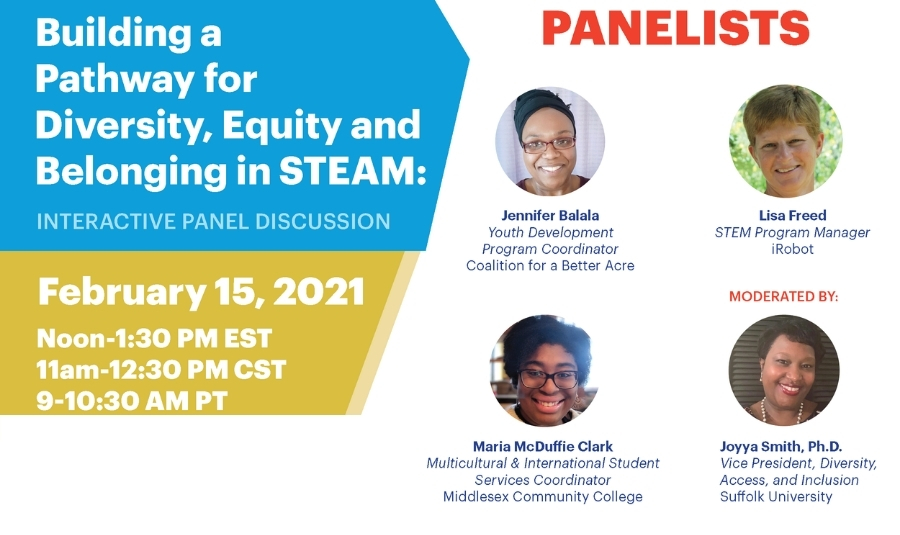 Webinar 1: Building a Pathway for Diversity, Equity and Belonging in STEAM
People of color, especially women, are heavily underrepresented in STEM fields. Yet, through afterschool programming, Kids in Tech has been able to help create a pipeline of diverse students to engage in STEM, gaining skills and practical knowledge to become future leaders in tech and science. For this kick-off event, you will hear impactful stories and insight from Kids in Tech Board members, partners and participants to learn about our innovative approach Kids in Tech is taking to bridge the digital divide.
Webinar 2: Importance of Art in STEAM
Scientists who have won the Nobel Prize are 17 times more likely to be a painter, 12 times more likely to have been a poet, and 4 times as likely to also be a musician. There is something to be said about success in STEAM and a connection to the arts. In this conversation, we will explore how we should use art to motivate STEAM education learning in schools, workplaces, and other afterschool settings.
Webinar 3: The State of STEAM Education
Legislators and advocates alike are fighting to ensure STEAM is an integral part of education in Massachusetts, across our nation, and the world. During this conversation, panelists will investigate these STEAM education and workforce development policy priorities: (1). STEAM skills for all through applied  learning; (2). Guided pathways to college, careers, and lifelong learning; (3). Alignment to economic and workforce development through employer partnerships; and (4). early childhood STEAM education initiatives. How can policy be used to drive to change for our nation's children?
Webinar 4: The Future of Work
May 26, 2021
Noon-1:30pm EST / 11am-12:30pm CST / 9am-10:30am PST
The nature of work is constantly evolving. The pace of change will only accelerate in the years ahead, presenting new opportunities and challenges for the workforce as a whole, but especially for underrepresented groups and women. These transformations will continue to displace many workers, eliminating their jobs and requiring them to learn new skills. These transformations will also create other jobs and entire new industries we have yet to imagine; they will liberate us from rote tasks, increasing our productivity and  leaving us time to explore our creativity and full potential. Through this session, we explore how advancements in technology are shaping this future, and how STEAM education can equip us to exist and advance in this new environment.
to learn more about this virtual series.
Technology is changing how we teach and how we all learn. As part of the Beyond the Microscope series, Kids in Tech is partnering with WEST to host virtual experiments and presentations with kids and families with miniPCR bio™ and GinkgoBioworks. These events are for ages 10+.