Our Mission
Kids in Tech strives to excite, educate, and empower children to acquire skills and confidence in technology through interactive after school programs.
Our programs focus on helping kids develop the necessary tech skills and aptitudes to participate in and be future leaders of the 21st century innovation economy.
Core Values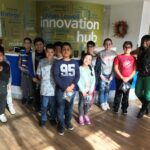 Inclusion & Innovation
We recognize the importance and value of bringing together individuals and their different perspectives. Real innovation comes when all voices and backgrounds are included.
Communication & Collaboration
We are curious, listen well, and ask good questions to fill the gaps in computer science education. We strive to ensure our future tech leaders come from everywhere.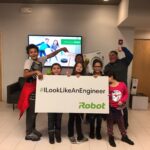 Impactful Results
We make a difference. We can measure this by the leaders we shape and we focus on results that matter to kids, the communities we serve, and broader society.
History
Kids in Tech was founded in 2016 in Lowell, Massachusetts to prepare disadvantaged kids with interactive, free after school programs in computers and technology. By 2024, 80% of the top 10 most in-demand STEM jobs in the Greater Lowell area will be in technology – and, these are the some of the top most desired skills for many growing industries across the country. In the past three years, Kids in Tech has offered programs at four different sites serving low-income kids in the Lowell area.
According to the Center for Childhood Creativity, "Data shows that young people are not graduating with the skills needed to succeed in a rapidly-evolving, technologically-driven workforce."
Kids in Tech has proven, demonstrated results, with over 90 percent of our participants reporting increased knowledge, skills, and interest in STEM fields. We're growing by leaps and bounds and look forward to offering these programs in more communities across the region and around the country.
Our Vision
Kids in Tech hopes to reach even more kids through tech clubs and other programming across the country. With computer science driving many industries, the need for kids to be well-prepared for these career paths is stronger than ever. Schools, unfortunately, provide limited opportunities; only two out of five schools across the country offer instruction in programming and coding, for example. Kids in Tech wants to help fill in the gap with fun learning opportunities for kids to get excited about technology and be tomorrow's innovators.
Help be part of ensuring kids are prepared and ready to take on the challenges of the future.
Advisory Council
Felicia Sullivan, PhD
Associate Research Director, Jobs for the Future
Alicia M. Bibbs, M.Ed
AHEC Project Coordinator, Georgetown University