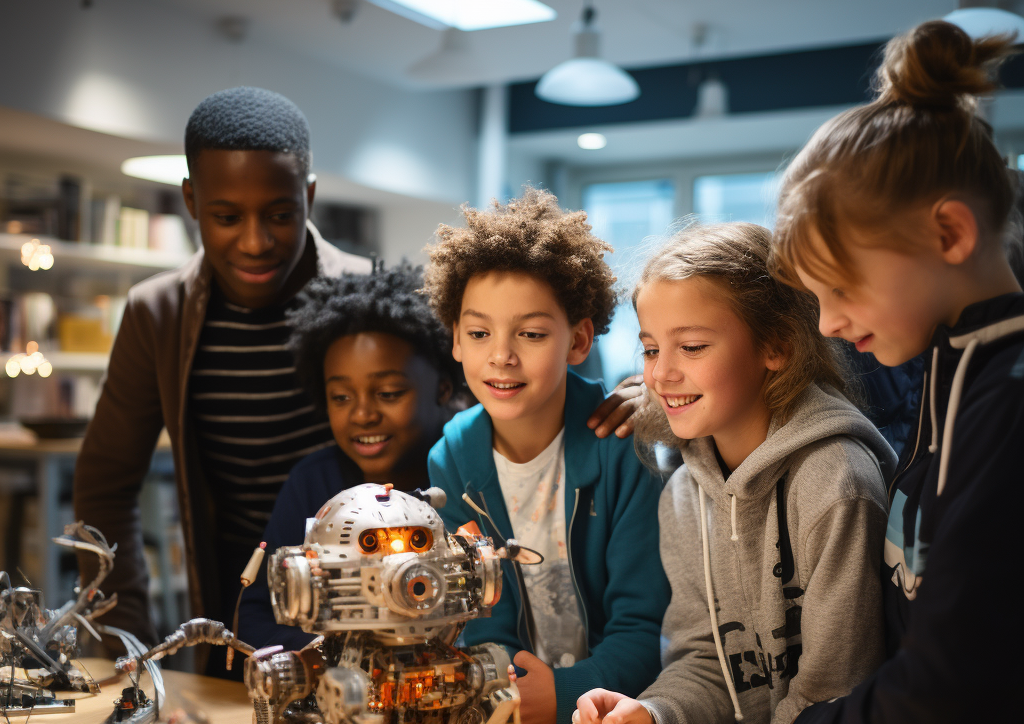 The Changemaker Event Series, organized by Kids in Tech, is a dynamic initiative that unites individuals and corporations in supporting interactive after-school programs for children aged 8-14 from low-income households. As a sponsor, you'll play a pivotal role in amplifying the impact of these programs, helping children acquire vital technology skills and the confidence to thrive.
With multiple levels of sponsorship available, both individuals and corporations can choose a contribution level that aligns with their capacity and desired impact.
By becoming a sponsor, you not only support Kids in Tech's nationwide programs but also gain exclusive benefits, including networking opportunities and recognition among influential educators and corporate leaders.
Your sponsorship empowers children regardless of their economic background, creating a level playing field for technology education. Join us on this exciting journey to nurture the next generation of innovators.
Sponsorship Opportunities
You are invited to become a sponsor of Kids in Tech's Changemaker Event Series. As a sponsor, you will make an impact on future tech innovators from under served communities and demonstrate your commitment to cultivating a diverse pipeline of young tech talent.
Sponsor the Kids in Tech Changemaker Series
Kids in Tech makes it possible for children ages 8-14 in low-income households to acquire skills and confidence in technology through interactive after school programs. Support our work and sponsor The Kids In Tech Changemaker Initiative. We offer multiple levels of sponsorship crafted to allow individuals and corporations to each give at a level that helps amplify the impact of our programs nationwide. Each sponsorship package comes with an opportunity for attendance or recognition during our events series.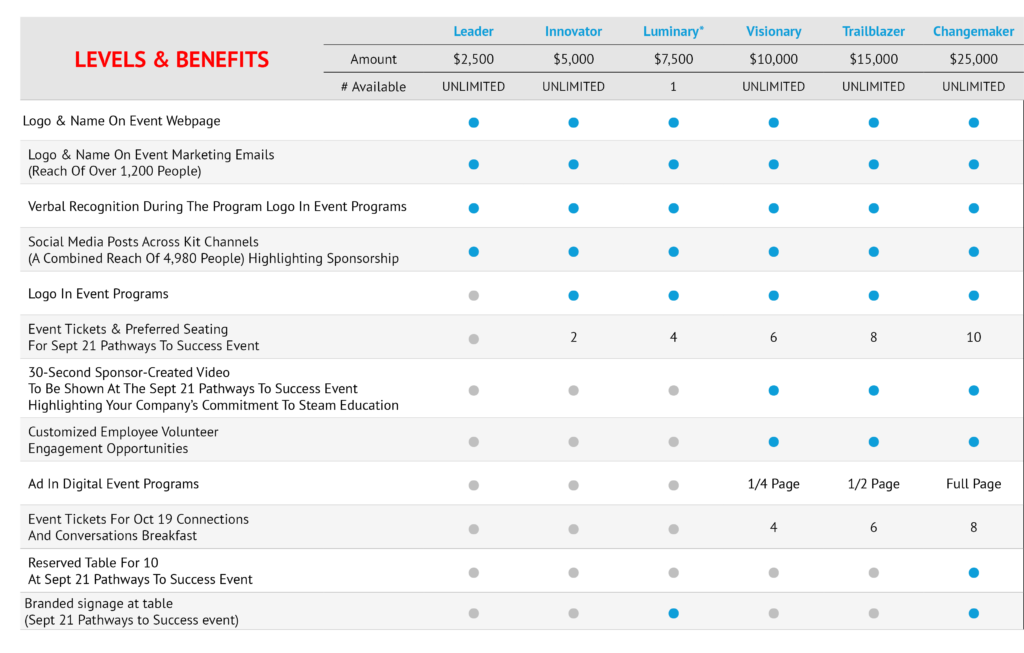 LEVELS & BENEFITS

Leader

Innovator

Luminary*

Visionary

Trailblazer

Changemaker

Amount

$2,500

$5,000

$7,500

$10,000

$15,000

$25,000

# Available

UNLIMITED

UNLIMITED

1

UNLIMITED

UNLIMITED

UNLIMITED

Logo & Name On Event Webpage

•

•

•

•

•

•

Branded signage at table

(Sept 21 Pathways to Success event)

•

•

•

•

•

•

Logo & Name On Event Marketing Emails

(Reach Of Over 1,200 People)

•

•

•

•

•

•

Verbal Recognition During The Program Logo In Event Programs

•

•

•

•

•

•

Social Media Posts Across Kit Channels

(A Combined Reach Of 4,980 People) Highlighting Sponsorship

•

•

•

•

•

•

Logo In Event Programs

•

•

•

•

•

•

Event Tickets & Preferred Seating

For Sept 21 Pathways To Success Event

•

2

4

6

8

10

30-Second Sponsor-Created Video

To Be Shown At The Sept 21 Pathways To Success Event

Highlighting Your Company's Commitment To Steam Education

•

•

•

•

•

•

Customized Employee Volunteer

Engagement Opportunities

•

•

•

•

•

•

Ad In Digital Event Programs

•

•

•

1/4 Page

1/2 Page

Full Page

Event Tickets For Oct 19 Connections

And Conversations Breakfast

•

•

•

4

6

8

Reserved Table For 10

At Sept 21 Pathways To Success Event

•

•

•

•

•

•
Pathway to Success Dinner & Awards
Date: September 21, 2023
Time: 6:00 pm – 9:00 pm
Location: Garage B
Connections and Communication Breakfast
Date: Thursday, October 19, 2023
Time: 8:00 am – 10:00 am
Location: Moxy Boston Downtown